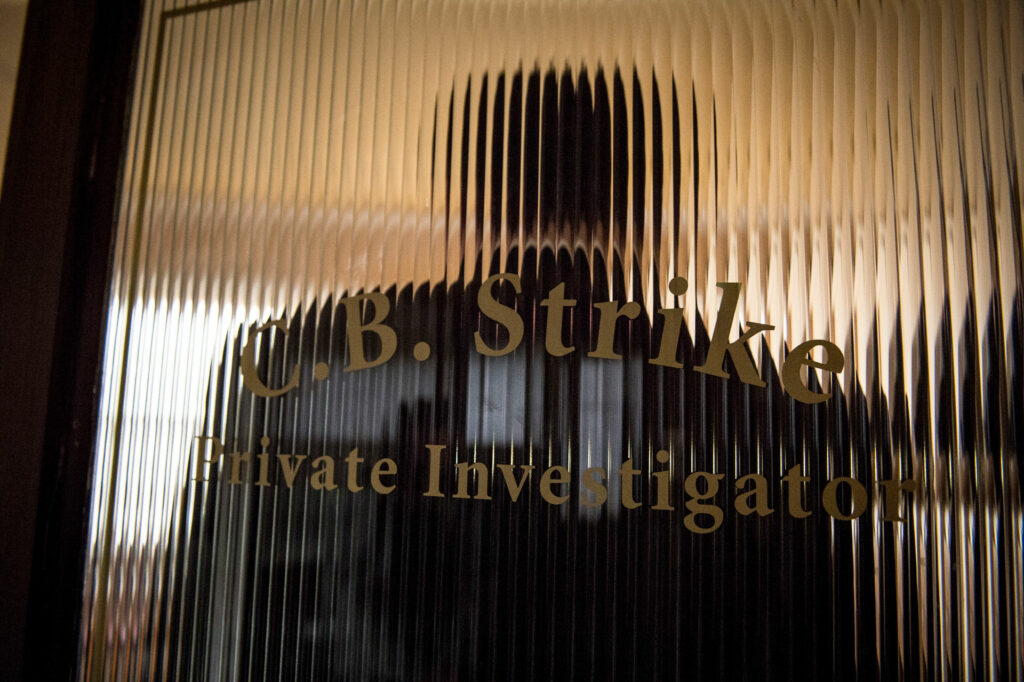 This month we are celebrating the tenth anniversary of the publication of The Cuckoo's Calling and the first mystery which brings together Cormoran Strike and Robin Ellacott. Here are ten moments you might have forgotten about the novel, so lets return to the beginning and plunge into the early days of Strike and Robin's relationship once again.
1. First Day
'What? Oh – black coffee, two sugars, please, Sandra,' he said, before he could stop himself. He saw her mouth twist as she closed the door behind her, and only then did he remember that he did not have any coffee, sugar or, indeed, cups.
The Cuckoo's Calling, Robert Galbraith
Robin Ellacott arrives at her new temping job full of excitement about her engagement to Matthew and delighted to discover that she will be working for a private detective. Then things start to go wrong. After almost being knocked over by a very beautiful woman on the doorstep, Robin then also almost gets catapulted downstairs by her hulking, dishevelled, temporary boss. Then, when an actual client arrives at the office, he starts calling her Sandra.
Even working under the name of the previous temp for a new boss who appears to be injured and insolvent, Robin proves herself up to the task. She gets coffee and cups from the graphic designer, Mr Crowdy downstairs and before his second coffee is cold, Strike has worked out that Robin is in a different class to his previous temps and learned her name. Within twenty-four hours, he realises he would be sorry when she goes. If John Bristow, the client who insists his famous sister, Lula Landry, was not a suicide as the police have concluded, ever works out Robin is not called Sandra after all, he never gives any sign of it.
2. A New Base
'This was the hour when he found London most lovable'
The Cuckoo's Calling, Robert Galbraith
Strike, though he had been living in luxury with his fiancée Charlotte until the day the story opens, is a practical man and his time in the military has trained him to make camp anywhere. Dragging camping gear and a cheap kettle to make pot noodles back to his office to sleep after Robin's first day, he finds the size and anonymity of London solace and comfort. London with its seven million souls, has seen it all, and he prefers the silent acceptance of the city to the sympathetic questioning he would receive if he went to stay with friends and family rather than sleep in his office. Having studied the nearly deserted streets from his office window, he sinks back into the familiar soldierly state of doing what needs to be done without complaint. He eats, puts his new purchases in place and makes up a new case file in which to record his investigations into the death of one of the most famous women in the world, though when finally he goes to sleep, he cannot avoid the gorgeous, vituperative, haunted Charlotte in his dreams.
3. End of the week
…it could make no difference to the cold practicalities of the situation: she had to go.
The Cuckoo's Calling, Robert Galbraith
Strike knows Robin is a luxury he can't afford, but after a week where she has proved repeatedly to be a valuable asset, he wishes bitterly he could. He hesitates on the top of the stairs, having wished her well, struggling against his instinct to ask her to stay. Just as he is hesitating outside his office on the very spot he almost killed her the moment she arrived, Robin dashes out onto the landing offering to cut out the Temporary Solutions Agency which sent her to Strike, thus making her wages at least a bit more affordable. She has job interviews lined up, she tells him. At least this way she can stay for a few more weeks and help his through an investigation which is turning darker and more complex by the minute.
For Strike, sense enters into a short, violent skirmish with instinct and inclination, and is overwhelmed. He agrees, even risks grinning at her for the first time, and steps out into the cool early afternoon with no feeling of regret, but rather a curious sense of renewed optimism.
4. Robin Undercover
Robin did not know where the invention was coming from; she felt inspired.
The Cuckoo's Calling, Galbraith, Robert
The effect on Strike of the designer Cavalli dress which Robin models is dramatic. He sees his assistant as not just a pretty girl, but a stunningly attractive woman. Their visit to the upmarket boutique, Vashti, is a revelation for Robin too though. Pretending to be Strike's sister, shopping for his wife, she falls into the role. Strike's imaginary wife gets a name – Sandra. Chatting about her to the assistants helping Robin spend Strike's imaginary money, she teases the crucial details of Lula's visit on the day she died.
Strike, eavesdropping as best he can, tells her afterwards she was 'very impressive'. and she glows with pride; it is the first independent success she has had in a career she always dreamed of, but for years has thought impossible. The next day, when she tracks down Lula's mysterious friend Rochelle Onifade, Strike upgrades her to a bloody genius.
5. The Election
The country was lumbering towards election day. Strike turned in early on Sunday and watched the day's gaffes, counterclaims and promises being tabulated on his portable TV.
The Cuckoo's Calling, Galbraith, Robert
2010 sees Strike and Robin both consumed by the case, convinced as it progresses that Lula did not commit suicide. In the background however the UK general election is approaching, an election which will end Gordon Brown's premiership and usher in a time of financial constrictions in the wake of the banking crisis. Neither Strike nor Robin dwell on politics, but the London and Britain in which they will be solving their future cases will be shaped by austerity. Strike sees it coming as he watches the news on the portable TV in his office, and sees Gordon Brown peering out baggy-eyed and exhausted from the front page of The Sun.
6. Charlotte's Engagement
'…and then she had cried, inconsolably, not for Bruno, but for the terrifying grief of her brother.
The Cuckoo's Calling, Robert Galbraith
As the case drives forward, Robin has to deliver the news to Strike that Charlotte, his ex-fiancée is now engaged to be married to someone else. She feels like an executioner. Robin understands something profound and terrible has happened to her new, still temporary boss and she remembers the terrible grief she once saw on her brother's face when they were told that their family dog, Bruno, had to be put down. It's a moment where Strike's mask slips, and he does not have time to hide from her.
She'll understand more later when she digs him out of the pub, and he drunkenly tells her about the lie which finally destroyed his and Charlotte's engagement, as well as the moment of kairos, perfection, when she arrived at the hospital after he lost his leg; but it's in that moment of seeing his first, grief-struck reaction, that Robin understands the depth of his feelings.
7. Lady Gaga
'Kieran, will you turn on the radio? I fancy a bit of music,' she said. 'Louder than that, sweetie. Oh, I love this.'
'Telephone' by Lady Gaga filled the car.
The Cuckoo's Calling, Robert Galbraith
Strike is seduced by supermodel Ciara Porter in the back of a car while listening to one of biggest tunes of 2010, Telephone by Lady Gaga featuring Beyoncé.
One night after drowning his sorrows over Charlotte, Strike's romantic life takes a sharp and sudden detour. He goes to the Uzi nightclub in Kensington with supermodel Ciara Porter to meet Evan Duffield, Lula Landry's on again off again boyfriend. Duffield, a musician and actor with disconcerting turquoise eyes, invites them back to his place and Strike feeds him cigarettes while he slowly reveals what he knows about Lula and her death, and how much he cared for her. He might have a magnetic glamour which makes him the centre of attention in the VIP area of the exclusive club, but Ciara chooses to take Strike home with her, an event which seems to do both of them good, something that proves rare in the romantic relationships he'll form in the future.
8. The Australian Accent
'Oy'm sorry, shiz not here… Naoh… Naoh… I dunnaoh where she iz… Naoh… My nem's Annabel…'
Strike laughed quietly.
The Cuckoo's Calling, Robert Galbraith
They get away with it for a while, but eventually Robin's agency Temporary Solutions calls to find out why she is no longer available for work, and why Strike no longer needs a temp from them. Robin tells Strike she pretended to be an Australian called Annabel. He gets to watch this performance himself some days later when they try calling again. The accent comes out, Strike insists later, a lot more like South African, but he still enjoys the performance and his mood gets a further boost as he shows off his note taking system to his new assistant and explains its importance generally and to this case in particular.
Moments later though, events take a dark and dramatic turn when their police contact rings to tell them Rochelle's body has been found in the Thames with Strike's business card in her pocket. Lula Landry's killer has struck again, and Strike is certain this will not be the last time.
9. The Fight
…he felt it pierce the flesh, and the flow of warm blood, and the white-hot stinging pain.
The Cuckoo's Calling, Robert Galbraith
The death of Rochelle is a sign the killer is out of control, and Strike is sure another murder will follow swiftly unless he can prevent it. The police, resentful of the turn the case has taken, are reluctant to listen to him, so he and Robin lay a trap. Knowing he is taking a dangerous risk, Cormoran sends Robin home to face the killer of Lula Laundry alone. The trap is sprung, and a desperate knife fight takes place in the office where the case began. The killer has underestimated Strike in the past and does so again to their cost, with Strike discovering one more time than his new assistant has his back.
10. A New Arrangement
She was, whichever way you looked at it, an asset that it would be impossible to replace at the price.
The Cuckoo's Calling, Robert Galbraith
The case of Lula Landry has been solved. Strike's Agency is lauded in the press and besieged with offers of new business, but Robin has a permanent job waiting for her. She doesn't want it, and Strike doesn't want her to leave, but feels he can't ask her to stay for what he can afford to pay. Robin makes a calculation, and offers to work for him for half what she could be making elsewhere..
The only fly in the ointment is that Strike has splurged buying Robin the sensational Cavalli dress she modelled in the boutique as a thank you. He is sure Robin's fiancé, Matthew, won't like it, or her new job. But nothing will dim Robin's enthusiasm for the investigations to come, and her growing abilities as an investigator will prove Strike's instincts absolutely accurate.