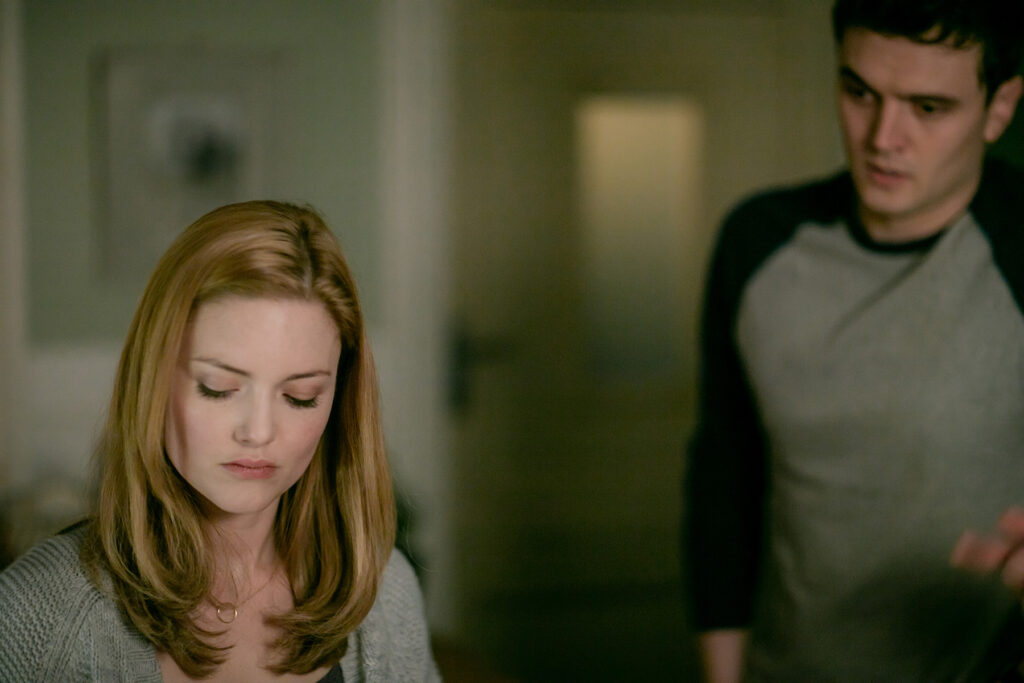 Robin Ellacott and Matthew Cunliffe got together young, while they were studying for their A-levels in Masham, North Yorkshire. They celebrated their results together in the local, The Bay Horse, then went to different universities, and even though they had fought that evening in the pub, they stayed together. Matthew studied in Bath, becoming an accountant, but Robin's psychology studies were derailed by a violent attack. Matthew stuck by her in the aftermath and through the trauma and trial which followed.
When we first meet Robin, she is happily engaged, but her new job with Strike puts an unbearable strain on her relationship. She and Matthew marry and set up a home together, but his refusal to support her ambitions and jealousy of Strike begins a slow unravelling of their relationship as Robin's abilities as an investigator develop and the agency becomes a success. Here are seven key moments on her journey from happily engaged office worker, to newly divorced investigator.
The Engagement – March 2010
'It had been, in Robin's view, the most perfect proposal, ever, in the history of matrimony.'
The Cuckoo's Calling, Robert Galbraith
The evening before Robin Ellacott arrives at Denmark Street, sent to Strike's office by a temping agency for a week's work, was one she is sure she'll remember all her life
Matthew proposed to her, going down on one knee by the statue of Eros in Piccadilly Circus and presenting her with a perfectly fitting diamond and sapphire engagement ring. He had meant to propose over dinner at a Thai restaurant, but the silent couple next to them intimidated him, so he improvised and his final proposal was witnessed by a group of homeless men instead. Her happiness makes Robin fond of everything about London for the first time since she moved there to live with Matthew a month ago. When she discovers she's been sent to work at a Detective Agency, it feels like a dream come true. She's wanted to work as a criminal investigator since she was a child, and now here she is, the day after the proposal, arriving at Strike's door.
From the start, Matthew isn't as excited as she is about her new placement. Matthew does not think being a detective is a real job. He wants Robin to work in Human Resources. He thinks Cormoran must be a fake, and Robin's obvious interest in the work, and admiration for her new boss make him uncomfortable. When Robin quits the temp agency to continue working for Strike, he's mollified by the fact she's got a 'proper' job starting soon but when, after the Lula Landry investigation is over (The Cuckoo's Calling), she decides to turn it down after all to work at Strike's agency on half the salary, he's resentful from the start. And that's even before he sees the glamorous green dress Strike bought for her as a thank you for her help on the case.
Drinks with Strike – November 2010
Strike could see it even if she could not: the condition of being with Matthew was not to be herself.
The Silkworm, Robert Galbraith
Strike's burst of fame and his sudden shift from failure to success after solving the Lula Landry case deepens Matthew's animosity. Robin still wants her relationship with Matthew to work even though her work with Strike is a constant cause of friction. Robin is hopeful that once she has introduced her boss and her fiancé, Matthew will stop sniping about him, her pay and her hours. After numerous missed and moved dates, Strike meets them at a pub in Waterloo for beers and Thai food during their investigations into the mystery of Owen Quine (The Silkworm).
It's not a good evening. Strike is late, and leaves to take a call which irritates Matthew. Worst of all, Robin can't help seeing Matthew through Strike's eyes. Although she is desperate for Matthew to be funny, kind – the man she loves – she can see he is coming across as arrogant, pretentious and insecure. Strike knows better than to let it show, but from the moment Matthew starts name dropping fancy restaurants, sneering about his clients, and boasting about his business and sporting prowess, Strike has him down as a tosser.
Robin heads home angry with them both. Matthew for being uninterested in Cormoran's work and the worst version of himself, Strike for making her see it.
The First Break-up – April 2011
She was comforting me. It was a difficult time for me too, you know!
Career of Evil, Robert Galbraith
Robin and Matthew's wedding is delayed after his mother dies. Matthew discovers Robin was almost late for the funeral because she was driving Strike to Devon (The Silk Worm), but after the argument that revelation causes, Robin thinks she has won his tentative support for her career, and that he finally understands how important the job is to her.
Sarah Shadlock, Matthew's old university friend, though continues to stir the pot, asking insinuating questions about Cormoran to make Matthew suspicious. After a weekend in Masham preparing for the wedding, in the midst of a heavy case load and the investigations into who sent Robin the severed leg of a young woman (Career of Evil), their bickering reaches a crisis point. Back in their flat in West Ealing, Matthew's jealously is particularly grating and Robin challenges him, asking why he can't believe her relationship with her boss is platonic, after all his friendship with Sarah is. The she realises it isn't. Matthew had an affair with Sarah while they were at university and Robin was recovering from the attack which ended her own university career. Feeling utterly betrayed, she calls off the wedding and the next morning arrives at work without her engagement ring. That evening she drinks in the Tottenham, feeling friendless and alone, and Strike finds her. She tells him about why she left university, and he insists on paying for her to stay at Hazlitt's Hotel. A far nicer place to sleep than the Travelodge she had planned on.
Matthew's misery while watching Kate Middleton marry Prince William makes Robin reconsider. They have been together a very long time. She puts her engagement ring back on. Then when Strike fires her at the height of the search for the the Shacklewell Ripper, it seems like her time as an investigator is over. Devastated, she heads up north to become Mrs Cuncliffe.
The Wedding – July 2011
'The beautiful bride, who had not once smiled in the entire service, was suddenly beaming. 'I do,' said Robin in a ringing voice, looking straight into the eyes, not of her stony-faced new husband, but of the battered and bloodied man who had just sent her flowers crashing to the floor.'
Career of Evil, Robert Galbraith
Hours after they capture the Shacklewell Ripper, Shanker drives Strike to Robin and Matthew's wedding in Masham, and Cormoran watches Robin exchange vows with Matthew. Robin, sure her career as an investigator was over, is delighted to see him. After the service she learns Matthew deleted Strike's calls asking her to come back to work, and is incandescent with rage. When Robin sees Strike leaving and deserts Matthew on the dance floor during the first dance to speak to him, for a moment it looks as if she might flee her own wedding to be with him. Strike leaves alone, but Robin's wedding reception becomes an ugly farce. Robin's brother Martin punches Matthew, leaving him with a bloody nose and Robin, in spite of not eating all day throws up in the toilet as family rows and recriminations continue in the bridal suite. She's sure her marriage is over before it's even begun, and only agrees to go on honeymoon with Matthew to the Maldives to avoid the publicity around the capture of the Shacklewell Ripper.
The Housewarming – June 2012
'She [Sarah] hugged Robin absent-mindedly, her eyes on the stairs as Matthew descended, doing up his shirt.'
Lethal White, Robert Galbraith
When they went on honeymoon to the Maldives after their disastrous wedding day, Robin was ready to tell Matthew she wanted an immediate annulment of their marriage, but one evening she found him disorientated and hallucinating in their hotel room. She looked after him and when he begged her to stay, she, touched by his vulnerability, decided to give the marriage one more chance. She returns to London, and plunges into her work at the agency, but does not tell Strike how her wedding day went after he left, or about Matthew's illness.
They move into a house in Deptford together the following summer, and hold a housewarming party. Robin thinks of wearing the green dress which Strike brought for her, but Matthew, of course, prefers a grey dress which makes her look pale. It's another reminder that Robin has to constantly negotiate her husband's reactions to her career and her boss. At the housewarming Matthew boasts to Sarah and her fiancé, Tim, while Robin relies on her police woman friend Vanessa Ekwensi – who she greets at the door with a 'Thank God!' – for support. Matthew's loud bantering tone as he greets his colleagues irritates her, and Sarah's fiancé Tom compliments her arse while making snide comments about her work and marriage. Strike and his girlfriend Lorelei attend, and Strike's opinion of Matthew doesn't improve
The week after the party, the agency receives a call from Jasper Chiswell. As Robin launches into her undercover work (Lethal White) she realises Matthew, who had once been one of her primary sources of comfort and support, has become another obstacle to be navigated.
The Anniversary – July 2012
'It's our bloody anniversary and you can't even remember to put your rings back on?' Matthew had shouted.
Lethal White, Robert Galbraith
Robin is struggling to hide her panic attacks from her husband and her boss, and tries to stay on top of her commitments to both.
Matthew books a weekend at Le Manoir aux Quat' Saisons for their first anniversary – a beautiful, romantic and expensive hotel – but the weekend is doomed from the start, highlighting the problems in their marriage rather than solving them. Robin is conflicted about leaving Strike covering Jimmy Knight's march and Matthew harangues her about Strike and her all-encompassing job, which Robin naturally defends. Then he notices Robin has forgotten to put her wedding band back on after her undercover work. What should be a romantic dinner is passed in silence, and the next day the only safe topic they can find to discuss is Matthew's work.
The Divorce – August 2012
'Sorry,' said Robin nonsensically, and then, bewildered by her own apology, she said, 'I've – I've just left my husband.' 'Yeah?' said the driver, switching on her indicator. 'I've left two. It gets easier with practice.'
Lethal White, Robert Galbraith
The final break with Matthew comes soon after their anniversary. While thinking about a possible clue in the death of Jasper Chiswell (Lethal White), Robin steps on an earring on the floor of their bedroom in Deptford. She recognises it as one of the pair Sarah Shadlock was wearing at their housewarming. Robin realises that Matthew has been cheating on her again, since their marriage, and is also pretty sure Sarah did not leave the earring by mistake.
Matthew comes home to find Robin with her bag packed ordering a mini-cab. Matthew tries to deny the affair, then explain and protest his love, but Robin cannot pretend the marriage has any future for another minute. The cab and its sympathetic driver arrive, and Robin leaves the house in Deptford for good.
She ends up on Vanessa's sofa, then, more comfortably with Strike's oldest friends Nick and Ilsa.
New Beginnings – May 2014
'G'luck, Robs,' he said thickly, and walked away for good.
Troubled Blood, Robert Galbraith
Matthew draws out the divorce proceedings for months, and Robin's attempts to regain her independence form the backdrop to the long investigation into the historic disappearance of Margot Bamborough (Troubled Blood). When he finally does sign the papers and agree a settlement, Robin realises that Sarah is pregnant, and probably pushing to marry before the baby is born. Whatever Matthew's faults, by the time the investigation into the disappearance of Margot Bambourgh is over, Robin is ready to admit she had a role in the collapse of the marriage too. She believes that with the right sort of partner, Matthew could be a good husband and father, but she was never going to be that person. She had never committed fully to the marriage, or put Matthew first. Once the chance to rediscover herself and her early ambitions presented itself, she was pulling away.
If it hadn't been for the attack while she was at university, and the debt she felt she owed Matthew for sticking by her through that terrible time, she realises she and Matthew would have drifted apart naturally long ago. She now has a career she is devoted to, despite its challenges, a more permanent place to live with Max, an actor, and his dachshund Wolfgang, and a new future she had no conception of when she arrived at Strike's offices in early 2010, ecstatic about her engagement.
She has managed to extricate herself from her short and painful marriage and thank Matt for standing by her at the most difficult time in her life. During their investigations into the death of artist Edie Ledwell (The Ink Black Heart), Strike and Robin begin to acknowledge their feelings about each other to themselves, even if they can't find the words, or are too afraid, to speak about it to each other. But their friendship and partnership is deepening. What will happen now, as her relationship with Strike evolves, only time will tell.