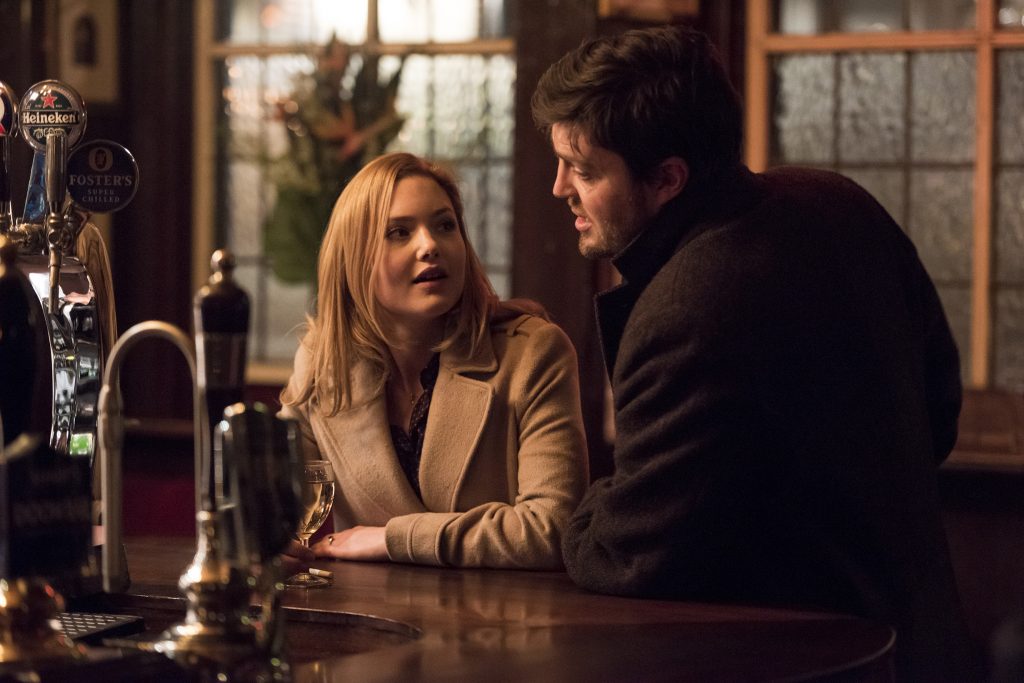 Even though the relationship status for both Strike and Robin is less than ideal, they are surrounded by the recurring presence in their lives of a number of couples who seem, on the face of it, to have the sort of relationship success that they would aspire to…or do they?
Helly and DI Richard Anstis
Strike's friend Richard Anstis is a detective with the Metropolitan Police. Strike's actions during their time in Afghanistan saved Anstis from death. Strike remembers the night before their truck's encounter with an IED, when Anstis had a lengthy video call with his wife and newborn son. Strike instinctively protected his friend, a husband and new father.
But now they meet as civilians, the trappings of family life hardly match that romantic ideal. Anstis' wife, Helly, makes a fuss about Strike's role as Anstis' saviour. Strike is godfather to their eldest child, but when he visits the couple for dinner he finds himself wishing their growing brood of kids would just stay in bed.
Nick and Ilsa Herbert
Good friends of Strike who go back even further than Anstis, Nick and Ilsa paint a happier picture of mutual support in their marriage. Both with careers of their own, he can relate to them. They're clearly in love and marriage doesn't seemed to be a burden. But there's a longing and absence, too – Strike is acutely aware of the stress their struggle to conceive has put on the relationship. Strike himself is too scarred by his own childhood to be interested in having kids of his own. Still, theirs is the kind of relationship Strike might enjoy if he had more space in his life for someone else.
April and Eric Wardle
Inspector Eric Wardle is another of Strike's Met Police contacts. When Strike meets Wardle to share information on a case, they have their meeting at an indie band's gig, in an East London pub, where Eric is meeting his wife. April is the antithesis of Helly Anstis, the only other policeman's spouse Strike knows. Bright red lips, vintage clothes, dyed-blue hair and a singular hobby: burlesque dancing. She introduces Strike to a friend, Coco, at the pub gig, being sure to let him know that Coco – who is single – is a burlesque dancer, too.
Jenny and Stephen Ellacott
Robin's older brother Stephen is married to Jenny, though in Troubled Blood he doesn't sell his only sister the life of a settled-down couple. Robin is thrilled to become an aunt for the first time, though she feels she's drifting further from motherhood as she enters her thirties. But when she spends Christmas with her family, Stephen and Jenny's world – babies, parenthood, worrying about sprouts causing colic via breastmilk – exhausts her. It feels alien. Robin can't be sure she wants that for herself.
Dave and Penny Polworth
As Dave tells it to Strike, he didn't consider himself the marrying kind. Indeed he'd split for a second time from his then girlfriend, Penny. But while mouthing off in the pub about Penny's demands for commitment, a stranger, eavesdropping, began to quote from a Russian classic:
Marry, and you get the use of your hands back. Don't marry, and you'll never have your hands free for anything else.
Unwittingly the stranger hit on Dave's precise concerns, forcing him to ask the important questions:
Am I enjoying talking shit to women in bars? …Do I want to be watching porn alone at forty?
And with that, Dave left the pub and immediately proposed to Penny, with whom he now has several children.
*
All in all, it's not hard to see why Strike and Robin sometimes let the obsessive, round-the-clock nature of their work for the agency get in the way of having ordinary, functioning relationships.
Then again, the thing about working a case is they to spend plenty of time with at least one person they like, respect and can (usually) rely on…
* Think you know the ins and outs of the couples in the Cormoran Strike novels? Try this month's Relationships Quiz.