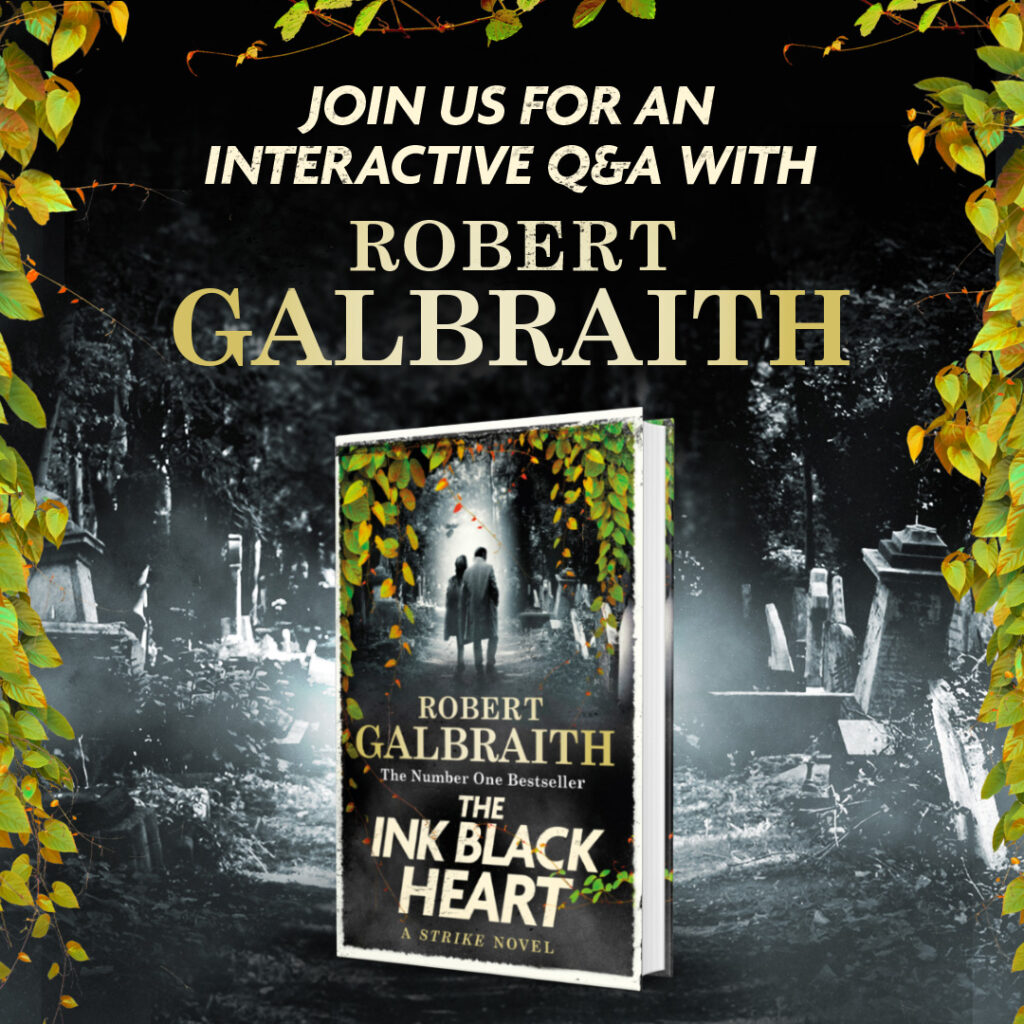 In anticipation of The Ink Black Heart releasing on 30th August in the UK, US, Australia and New Zealand, with other international markets soon after, Robert Galbraith has recorded a number of answers to questions focused on the new book. Subjects range from Strike and Robin (naturally), inspiration for the new book, the locations and the creative process.
The full interactive Q&A will be available 22nd September at 7.30pm (BST) /2.30pm (ET) and 23rd September 4.30am (AEST) /6.30am (NZST), allowing fans to choose the questions to which they would like to hear Robert's answers.
To buy The Ink Black Heart, click here.
In the meantime, see 3 of Robert's responses below.
I see this as a novel about disconnection. And people feeling disconnected in real life. And exploring what they find online as a way of connecting. But – it – I don't want to give too much away. But the central theme of the book is anomie, which is a state of lacking normal social or moral norms. And – so, yeah, it's really an exploration of that. It is a very sort of modern malaise. Although the term anomie has been around for a long, long time and it really – the term arose through industrialisation. People losing meaning in their daily lives and – and feeling that they themselves were not really part of society. Not really part of a whole. So, yeah. So, it's a big theme. But it is explored in a very sort of contemporary way.
I have never created a book – and this book certainly isn't created from my own experience – you know, with a view to talking about my own life. That doesn't mean, of course, that your own life experience isn't in the book.
With this book – I had been planning this book for so long and then a couple of the things that happen in this book have since happened to me. And so, I would like to be very clear that I haven't written this book as an answer to anything that happened to me. Although I have to say when it did happen to me, those who had already read the book in manuscript form were – are you clairvoyant? I wasn't clairvoyant, I just – yeah, it was just one of those weird twists. Sometimes life imitates art more than one would like.
But, no, it's not – this isn't about my experience of – as being a creator. My experience – if I wrote about my experience as a creator, it would look very different. And I have to say, for example – which I think will be a question readers would ask: the Potter fandom, by and
large, has been amazing to me. Incredibly supportive and I still receive tonnes of love from the Potter fandom. So, the fandom in this book is very much not a portrait of the fandom. It is of a very – I think a very different kind of fandom.
The reason I love writing those two characters so much is I love them both as characters. And I love the friendship. I love writing – and of course I love writing the sexual tension, which I know is – is a big deal for certain readers. But my feeling was always that each of them had quite a lot of changing and growing to do. Even Strike who is 10 years older than Robin.
You know, his – his past is an unusual one. And it has left him with issues that I don't think he has ever really fully explored. And I feel that in books five and six, this being book six, you start to see him recognising some of this. He has still got a way to go. Equally, Robin, who's had, you know, not a particularly typical romantic history because of – she has trauma in her past – in this book really does get to show a quite – what I think readers might find quite an unexpected side of her.
So, I love – I love the fact – to me it is a real friendship, they do – they rub – they can occasionally infuriate each other. But they are very complementary personalities, I think.
And they – their shared endeavour is really – is at the absolute root of what they value in each other and what they – I think now in this book, particularly at the end when something quite symbolic happens, you see that they recognise that they couldn't have done it without
each other. And that's – you know, that's a wonderful feeling when you – when you have a shared endeavour with someone, and I empathise with that a lot.