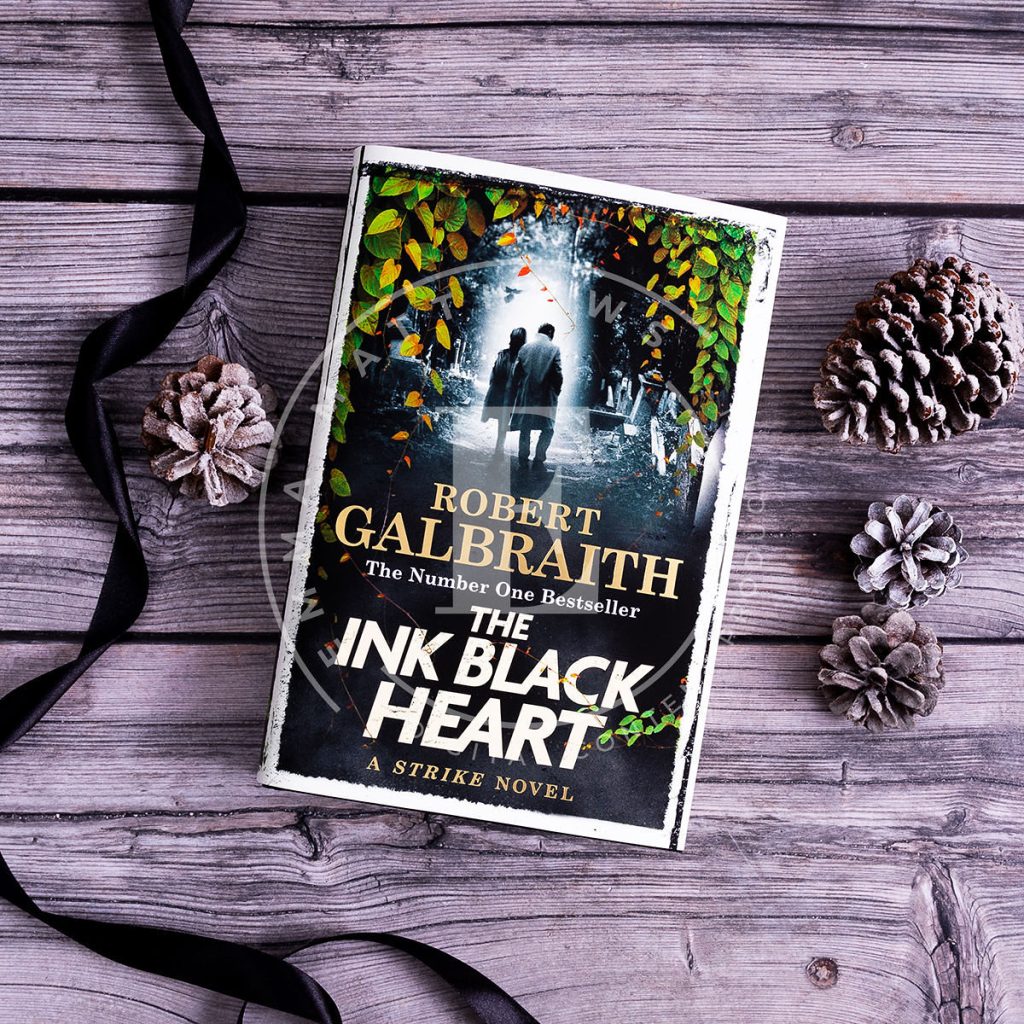 Since the release of The Ink Black Heart in August, you'll have had the time to read the 6th Cormoran Strike novel by now.
Here are a selection of some of the reviews received by readers…
---
The Ink Black Heart is a clever, gripping mystery and as usual, you're hooked from page one until the very end.
I won't spoil anything, but this time Strike & Robin are investigating the murder and attempted murder of the two creators of a cartoon titled "The Ink Black Heart". And as ever, we follow the complex lives of Strike and Robin.
What currently makes the Strike books the best in the crime fiction genre is that as well as a clever mystery, from the minute you pick it up you know you're going to be catching up with old friends, whether it be Strike and Robin or Barclay or even Pat who has become a firm favourite of mine (and I think secretly Strikes too).
[…] I could read Strike & Robin for the rest of my days and never be bored!
---
I'm loving Robin's character arc throughout this series. There was a ton of info to sift through in this book, so I did not guess the killer at all on this one. I will definitely reread this so I can find the hints that [Galbraith] always leaves. I also feel that [Robert Galbraith] did a good job in describing the experience of being the target of online hate which definitely made me think more about the way we use social media. Overall, an excellent addition to the Cormoran Strike series.
---
An extremely accomplished contemporary crime novel – epistolary and with a tremendously wide range of characters – this is not a novel to dip into occasionally- it requires concentration- but is also well worth the effort. The books and cases in this series are each different and as far from formulaic as you can get. A wide cast of characters, Dickensian style, may not be for everyone but I thoroughly loved it and wanted to stay in the world of Strike and Ellacott for as long as possible.
---
When people talk about staying home and curling up with a good book while it's raining…this is the kind of book they're talking about.
As soon as I saw that it was announced, I was looking forward to it and when it arrived on my doorstep, I've been interested in little else than reading it.
The Ink Black Heart is a fantastic example of great writing. It kept me more engaged invested, and fully immersed than most series and franchises. From the relationship between Robin and Strike (as well-written as the rest), to the core mystery, everything had an air of import and relevance. Galbraith, in all their endeavours is great specifically because of how they enrich their world, story, and characters with lush detail and nuance. I describe it as genius and appropriately award it five stars […] and a huge recommendation. I personally look forward to reading this again as well as the next in the series. May it never end.
---
Love that since the bulk of the case deals with social media and chat rooms, Strike is completely out of his element and has to rely more on Robin to explain how Twitter works.
In general, Robin really shines in this one!
She's grown so much as a character and as an investigator since Cuckoo's Calling and it's very satisfying to see her excel as a partner in the agency.
I still adore the more minor characters, especially Pat and the sub-contractors. Always glad to see more of my boy Barclay, and Midge and Dev were great additions to the team. I also loved seeing how Pat has grown fonder of Strike and treats him nicer than she did last time around.
I think the reason this book in particular is so effective is because the main plot (featuring online harassment, specifically of women) is one that's unfortunately all-too-familiar these days. […]
I will never have enough of the Cormoran Strike series!
---
Though this is undoubtedly a large novel, it's a gripping read. I couldn't put it down and read the entire thing in 4 days.
[Galbraith]'s more-ish prose style is in abundant evidence here and the world she creates is fascinating. Set simultaneously in North London, (in particular around Highgate Cemetery) and the online universe, this book has a thrillingly tense atmosphere. The story is punchy and topical and Robin and Strike are as engaging as ever.
I've loved all the Strike novels but this one is definitely in my top three.
---
I love this series, and each new volume is just as good as the ones that came before. R. Galbraith's skill as a researcher and bringing different stylistic themes together, is as amazing as his ability to continue to develop the story of the main characters. This book incorporates topics like gaming, art, and incest, and it was very interesting to jump from reading about real life characters to pseudonyms in a gaming channel. […] Having devoured this book, I now miss Robin and Strike and am impatiently waiting for the next instalment of their adventures (and love story?).
---
Skillful, sophisticated and, indeed, unputdownable! […]
It's my favourite part of the already admirable series so far (lovely goth and geek references made me admit that!) I also find the author's scrupulous attention to details overall so utterly satisfying… From eloquent nicknames to accurate smells, nostalgic chats and Comic Con homages. Masterful and meticulous job!
All reader reviews included originate on Amazon.co.uk and Goodreads.com. Length, grammar and typos have been adjusted where needed to improve your reading experience.
---