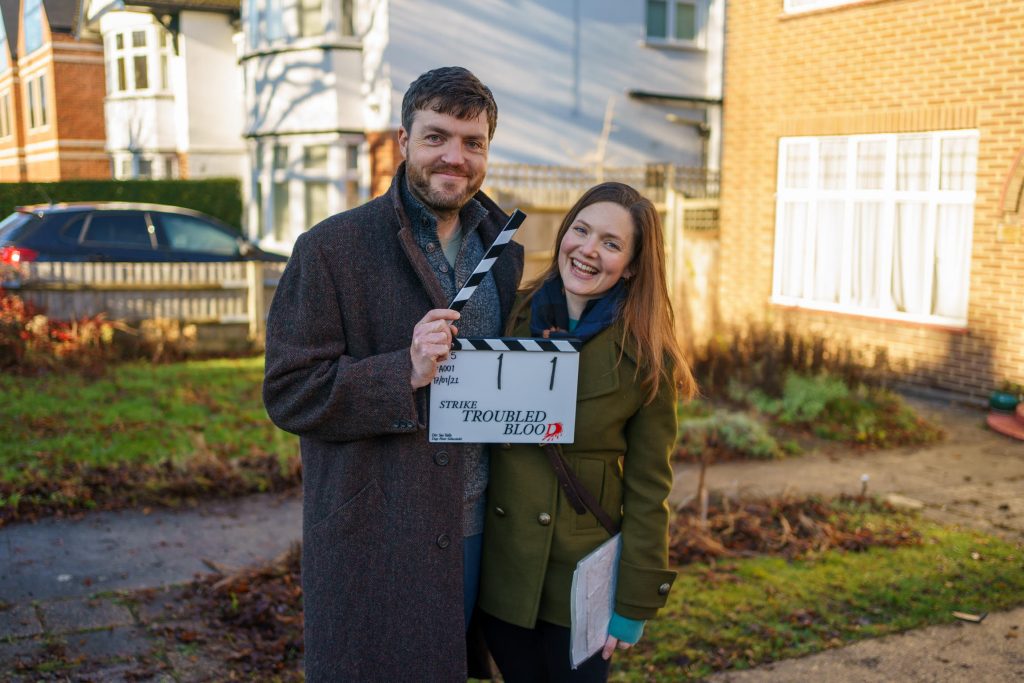 British actors Tom Burke as 'Cormoran Strike' and Holliday Grainger as 'Robin Ellacott' are returning for STRIKE – TROUBLED BLOOD, the fifth (4 x 60 minute) story of the major returning TV series for BBC One, HBO and Warner Bros. and based on J.K. Rowling's best-selling crime novels written under the pseudonym Robert Galbraith. 
Burke (The Souvenir, True Things About Me) and Grainger (The Capture, Animals) lead a cast of acclaimed British actors including Linda Bassett (Call The Midwife, What If If Only), Abigail Lawrie (Our Ladies, Tin Star), Anna Calder-Marshall (The Third Day, Harlots), Fionnula Flanagan (Lost, The Others), Cherie Lunghi (Unforgotten, Midsomer Murders), Daniel Peacock (Robin Hood Prince of Thieves, Only Fools and Horses), Ruth Sheen (Unforgotten, It's A Sin), Syrus Lowe (Avenue 5, The Inheritance), Carol MacReady (This Is Going To Hurt, Gentleman Jack), Sophie Ward (A Very English Scandal 2: The Duchess of Argyll, Moonstone), Robin Askwith (The Train to Christmas, The Madam Blanc Mysteries), Genevieve Hulme-Beaman (Burn It All, Rebecca's Boyfriend), Philip Cornwell (Call The Midwife, Dodger) and Kenneth Cranham (Hatton Garden, Layer Cake).
Returning actors include Kerr Logan (Alias Grace, Showtrial) as 'Matthew', Sarah Sweeney (Bastard Executioner, Cider with Rosie) as 'Lucy', Kierston Wareing (I Love My Mum, The Take), Samuel Oatley (Doctor Who, The Woman Who Fell To Earth), Jack Greenlees (The Trial of Christine Keeler, The Swarm), Christina Cole (Suits, Innocent), Ian Redford (Coronation Street, The Man with the Iron Heart), and Ben Crompton (Game of Thrones, Rebecca) as 'Shanker.'
Private detective Cormoran Strike is visiting his family in Cornwall when he's approached by a woman asking for help finding her mother, Margot Bamborough, who went missing under mysterious circumstances in 1974.
Strike's never tackled a cold case before let alone one forty years old, but despite the slim chance of success, he's intrigued and takes it on, adding to the long list of cases that he and his partner in the agency Robin Ellacott are currently working on. Robin herself is also juggling a messy divorce and unwanted male attention as well as battling her own feelings about Strike.
As Strike and Robin investigate Margot's disappearance, they come up against a fiendishly complex case with a psychopathic serial killer and witnesses who cannot all be trusted. They learn that even cases decades old can prove to be deadly.
Sue Tully is directing. Her credits include Too Close, Strike – Lethal White, Line of Duty, Tin Star, The A Word and The Musketeers.
J.K. Rowling (Fantastic Beasts and Where to Find Them, Strike, The Casual Vacancy), Neil Blair (Fantastic Beasts and Where to Find Them, Strike, The Casual Vacancy), Ruth Kenley-Letts (Too Close, Strike, You Don't Know Me) and Tommy Bulfin (for the BBC) executive produce based on a script by Tom Edge (You Don't Know Me, Vigil) who also wrote Strike – The Silkworm, Strike – Career of Evil and Strike – Lethal White. Jenny van der Lande (Too Close, You Don't Know Me) is story producer and Alex Rendell will produce.
HBO has North American rights and Warner Bros. is selling the show internationally.
The Cuckoo's Calling was published to critical acclaim in 2013 and went on to be a global bestseller, followed in 2014 by The Silkworm, Career of Evil in 2015, Lethal White in 2018 and Troubled Blood in 2020. All five Strike novels topped the national and international bestseller lists and Little, Brown has sold in total over five million copies worldwide across all editions.
Cormoran Strike is one of the most memorable and distinctive detectives in crime fiction today and Robert Galbraith is among the genre's most celebrated writers, shortlisted for the prestigious CWA Gold Dagger in 2015 and the Theakston Old Peculier Crime Novel of the Year in 2016.
For further information contact:
Ian Thomson, McAinsh Consulting
[email protected]
+44 (0)7909 685077