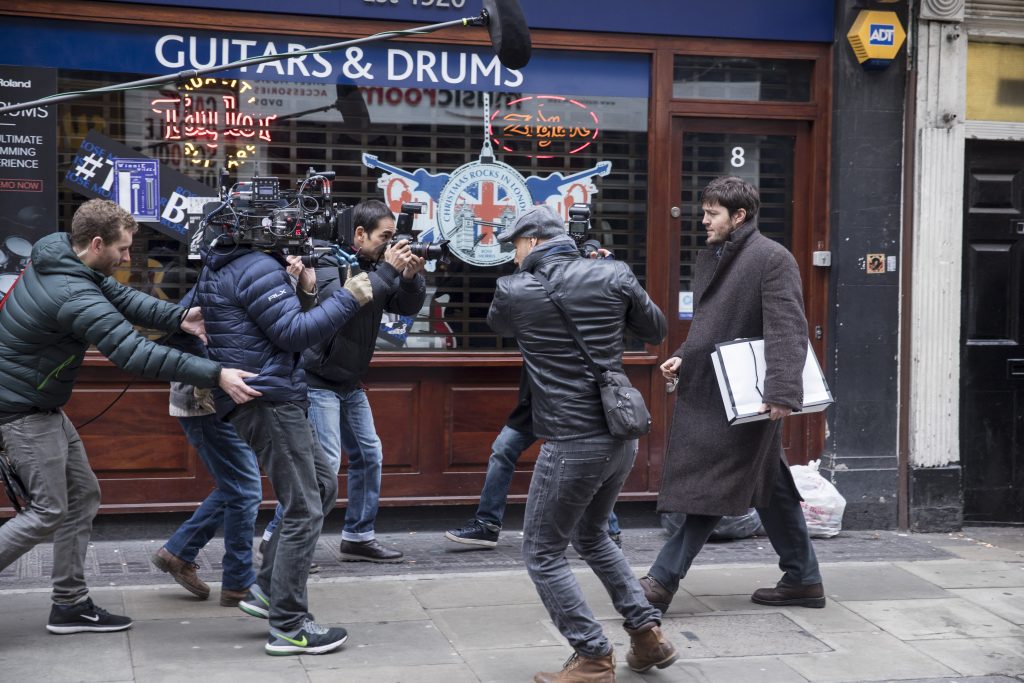 ---
Seven and a half million hearts were beating in close proximity in this heaving old city, and many, after all, would be aching far worse than his. Walking wearily past closing shops, while the heavens turned indigo above him, Strike found solace in vastness and anonymity.
Robert Galbraith – The Cuckoo's Calling
---
Robin Ellacott and Cormoran Strike's investigations take them to dark places, and tie them up in the carefully buried secrets of dangerous people. The job of a private detective is also physically and mentally demanding – long hours of watching suspects, interrupted evenings and weekends and, as the agency grows, the partners have employees to manage too. So how do Robin and Cormoran find a moment of escape for themselves?
After sixteen years in an on and off relationship with Charlotte Campbell, his stunning but disturbed ex-fiancée, Strike regularly finds relief and release in the arms of beautiful women, from a liaison with a supermodel during his investigations into the death of Lula Landry (The Cuckoo's Calling), to longer relationships with Lorelei Bevan (Lethal White) and Elin Toft (Career of Evil). Strike recognises his time with these women as a welcome escape from the job, but he has yet to find long lasting happiness in his love life. He has other temporary distractions though. The Tottenham, a pub near his office where they serve Doombar, Strike's favourite beer, is a refuge, and a full English breakfast after a gruelling night's work a pleasure. An Arsenal match – even when it goes badly – is enough to give Strike a break from his thoughts, something to be anticipated and savoured. He even turns down the chance to spend more time with Elin to watch an Arsenal – Liverpool match in peace.
In the past Robin has sought refuge and safety at her family's home in Masham, North Yorkshire, but since she met Strike and began her career as investigator her feelings about her home town have become more complicated. Robin's love life doesn't offer much in the way of escape either, but, like Strike, she can savour moments of indulgence – coffee and cake while looking out at a windswept street, chasing cheerfulness like a butterfly along Deptford High Street with a Cornetto, or soaking in a jasmine bubblebath.
Strike and Robin can find relief and distraction with friends, particularly Nick and Ilsa who welcome Robin into their home when her marriage falls apart, and Strike whenever the press make living above his office in Denmark Street impossible. Also London itself is a refuge, in spite of all the dark mysteries Robin and Strike discover in its streets. For Strike in particular the city has the double effect of connecting him with the other seven million souls that call it home, while, as he wearily walks the streets, he also finds solace in its vastness and anonymity.
The greatest escape of the two detectives though is their work. Their fascination with the mysteries they encounter, however dark and violent they might be, often drives away thoughts of their personal problems. For Strike only one subject has ever matched Charlotte for the fascination it exercises over him: unnatural death – he becomes so absorbed in the macabre imagination shown in Owen Quine's manuscript he misses the start of the second half of the Arsenal – Spurs match (The Silkworm).
As for Robin, she told her brothers at eight she was going to catch robbers, but after the trauma of the attack during her university career she was dissuaded from pursuing anything related to criminal investigative work. Then her temp agency sent her to Strike by mistake and Robin discovers she is travelling in a different direction to the rest of her friends. Now she spends Boxing Day at the computer reading Strike's reports on Talbot's horoscope notes (Troubled Blood).
Her talent for undercover work allows her to escape into a different life entirely. During the investigations into the mysteries surrounding the Chiswell family (Lethal White) Robin eagerly transforms into Bobbi Cunliffe, the Yorkshire Goth with a savage approach to eyeliner, who takes a job at a Wiccan's jewellery shop, Triquetra in Camden, and gets to know Flick and the other members of the Real Socialist Party. In the same investigation she also transforms into Venetia Hall, goddaughter of Sir Jasper Chiswell, walking though the corridors of power in the Houses of Parliament with a box file under her arm, and attending charity receptions with royalty in her designer green dress. The green dress is also a souvenir from an undercover assignment, her first, undertaken while searching for information on the last hours of Lula Landry and before she believed a career with Strike was a possibility (The Cuckoo's Calling). The twisting, absorbing unfurling of an investigation engrosses them both, and, as readers, we get to escape from our day to day problems by following each twist and turn of their investigations alongside them.