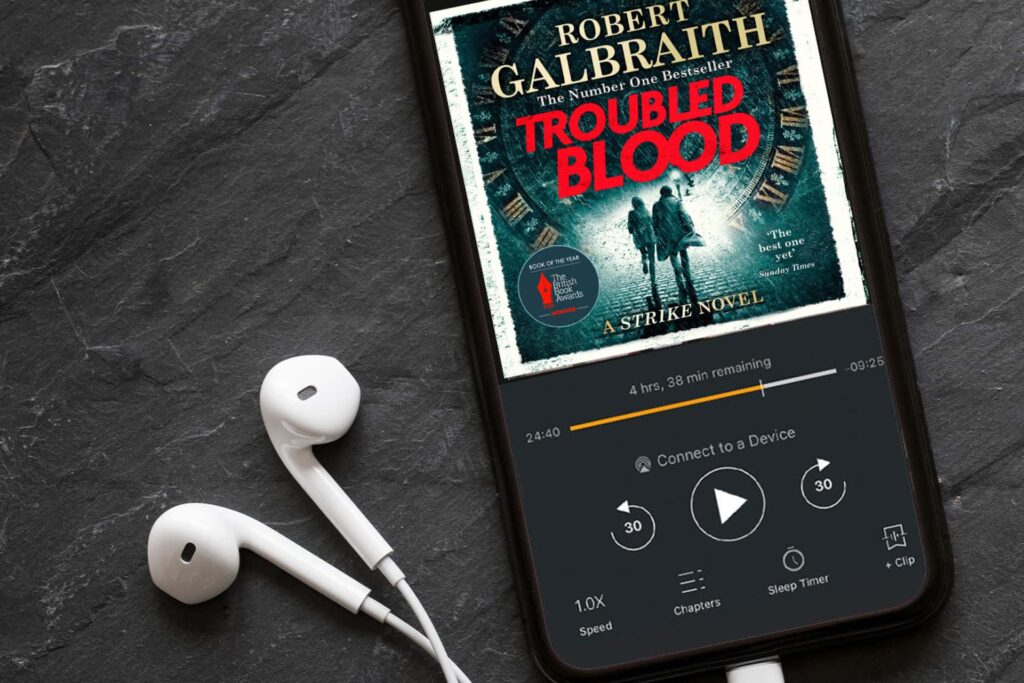 Get ready for The Ink Black Heart, with the Troubled Blood listen-a-long
In the run-up to The Ink Black Heart releasing on 30th August, remind yourselves what was happening with Strike and Robin in Troubled Blood, before we join them again in investigating another thrilling case.
Every Thursday, an audio clip will be posted on the Robert Galbraith social channels, with two key topics/questions for you to discuss on social media every Saturday at 2pm BST.
Join on Twitter
Join on Facebook
Join on Instagram
Each week will focus on the following chapters, so listen to Robert Glenister's incredible audio recording (or read the book) before the discussion:
Saturday 23rd July
Discuss chapters 1 to 14
Saturday 30th July
Chapter 15 to 27
Saturday 6th August
Chapter 28 to 40
Saturday 13th August
Chapter 41 to 52
Saturday 20th August
Chapter 53 to 63
Saturday 27th August
Chapter 64 to 73
---
And if you get ahead of the schedule, here is the full list of questions throughout the listen-a-long:
Week 1
Chapter 1 to 14
Robin and Strike have just taken on Margot Bamborough's case at the request of her daughter. How do you think it's going so far?
Do you think Creed is involved? Who else do you think is a suspect?
Week 2
Chapter 15 to 27
What do you think about Strike and his aversion to getting romantically involved with Robin?
Has the interview with Oonagh revealed anything you find interesting? Have you changed your mind about any of the suspects?
Week 3
Chapter 28 to 40
Robin is working through a lot in Troubled Blood. How do you feel about what she's going through with her family, Matthew and Strike? Has your opinion of Robin changed since the start of the series?
"Mucky" Ricci's name is popping up a lot! Do you suspect he's involved in Margot's death? Are there any other people you're sceptical of?
Week 4
Chapter 41 to 52
What do think of Satchwell? Do you think he's vital to the case or a dead end?
Why do you think Robin still hasn't told Strike about the interview with Creed, especially considering how little time they've got left to work on the case? 
Week 5
Chapter 53 to 63
What do you think would have happened if Barclay hadn't interrupted the conversation Strike and Robin were having in the office?
Strike keeps going back to Talbot's notebook and is slowly figuring things out. Are you on the same wavelength? 
Week 6
Chapter 64 to 73 (End)
Strike and Robin catch Margot Bamborough's killer. What did you think about the reveal? Were they on your list of suspects? [Spoiler Alert: don't read the comments if you haven't the book!]
Troubled Blood ends on Robin's birthday. What do you think of how Robert Galbraith has left Strike and Robin's relationship?
We don't have long to wait until the Ink Black Heart comes out. What are your hopes for the new book?