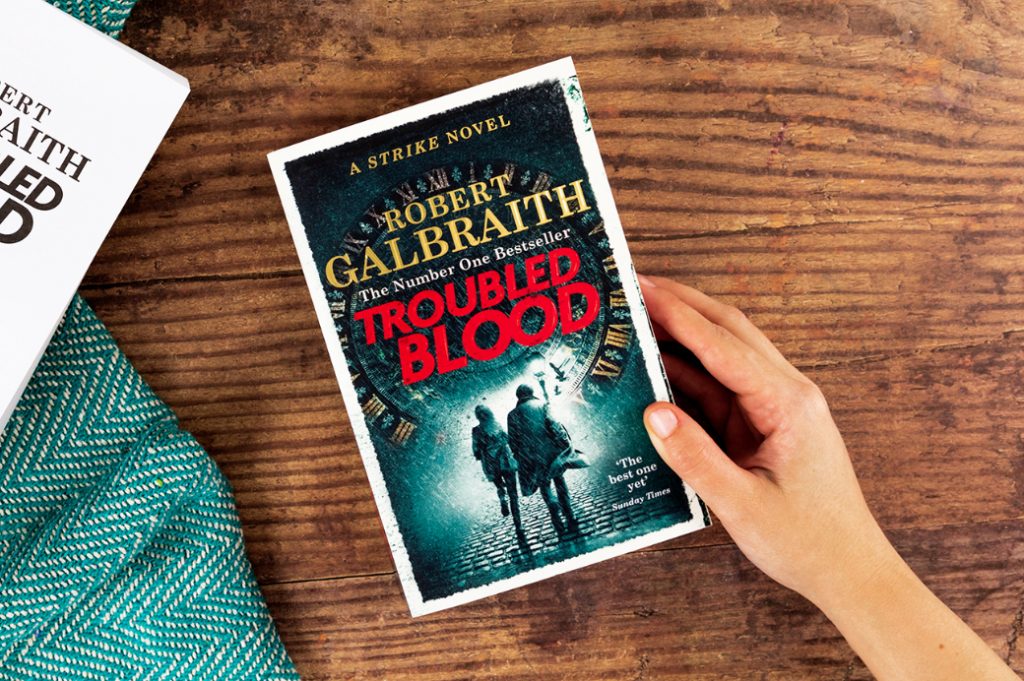 Whether you're reading Troubled Blood for the 1st time now its available in paperback, or if you're reading it again, use these questions to prompt a deeper reading experience, with your book club or just for yourself.
Private Detective Cormoran Strike is visiting his family in Cornwall when he is approached by a woman asking for help finding her mother, Margot Bamborough – who went missing in mysterious circumstances in 1974.
Strike has never tackled a cold case before, let alone one forty years old. But despite the slim chance of success, he is intrigued and takes it on; adding to the long list of cases that he and his partner in the agency, Robin Ellacott, are currently working on. And Robin herself is also juggling a messy divorce and unwanted male attention, as well as battling her own feelings about Strike.
As Strike and Robin investigate Margot's disappearance, they come up against a fiendishly complex case with leads that include tarot cards, a psychopathic serial killer and witnesses who cannot all be trusted. And they learn that even cases decades old can prove to be deadly . . .
1. Much of Strike and Robin's initial investigation focuses on the serial killer Dennis Creed. Why do you think serial killers hold such fascination for us?
2. In your opinion, what is the significance of the quotes from Spenser's The Faerie Queen?
3. TROUBLED BLOOD reveals much about Cormoran Strike's background for the first time in the series. Does knowing this help you understand him better?
4. This is the first time that Cormoran and Robin tackle a cold case in the series. Was that a different experience for you as the reader following the investigation?
5. In this novel, Robin steps up to be co-partner of the agency. How does her approach differ to Strike's and how is she treated by their employees?
6. Do you think a romantic relationship between Strike and Robin would be a good thing, or detrimental to their business relationship?
7. Anna begins talking to Strike after consulting a medium and tarot card readings go on to play a major role in the investigation. Do you believe in these techniques? Why do you think Robert Galbraith included them in the novel?
8. Both Strike and Anna grow up with maternal figures who are not their mother by blood. How would you say that has that impacted each of their lives?
9. Did you guess the ending? What did you think had happened to Margot?