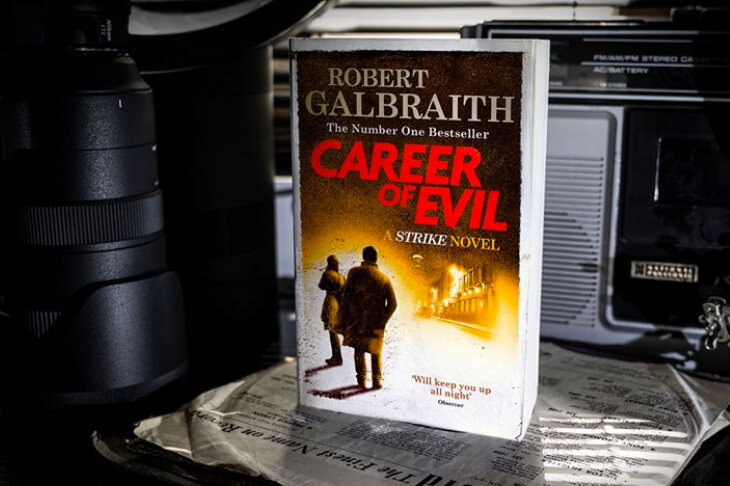 Today, we start reading the third strike novel, Career of Evil. Whether you've read it before or are reading for the first time there's lots to look forward to.
When a mysterious package is delivered to Robin Ellacott, she is horrified to discover that it contains a woman's severed leg.
Her boss, private detective Cormoran Strike, is less surprised but no less alarmed. There are four people from his past who he thinks could be responsible – and Strike knows that any one of them is capable of sustained and unspeakable brutality.
With the police focusing on the one suspect Strike is increasingly sure is not the perpetrator, he and Robin take matters into their own hands, and delve into the dark and twisted worlds of the other three men. But as more horrendous acts occur, time is running out for the two of them…
1. This novel focusses more on Robin. What do we learn about her over the course of the story, how does it change our perspective of her in previous novels?
2. Are there certain passages in the book—ideas, descriptions, or dialogue—that you found interesting or revealing? What lines, if any, made you stop and think?
3. Good crime writers tease us with red-herrings—false clues—to purposely lead readers astray? Were you thrown off track? If so, were you tripped up?
4. There are lots of fantastic secondary characters in the novel with rich backstories and motives; which of these was your favourite? Did you suspect any of them?
5. At what point in the book do you begin to piece together what happened?
6. We learn much more about Strike's past – particularly his relationship with his mother and his stepfather. Was there anything you found particularly revealing
7. The novel opens with a sinister chapter written from the murderer's perspective. Why is this significant and how did it impact your interpretation of the murderer?
8. How does Robin and Strike's relationship develop over the course of Career of Evil?
9. How does Strike's approach differ from Robin's? Do you think their investigative styles are complimentary or do you think one of them is a more effective investigator than the other?