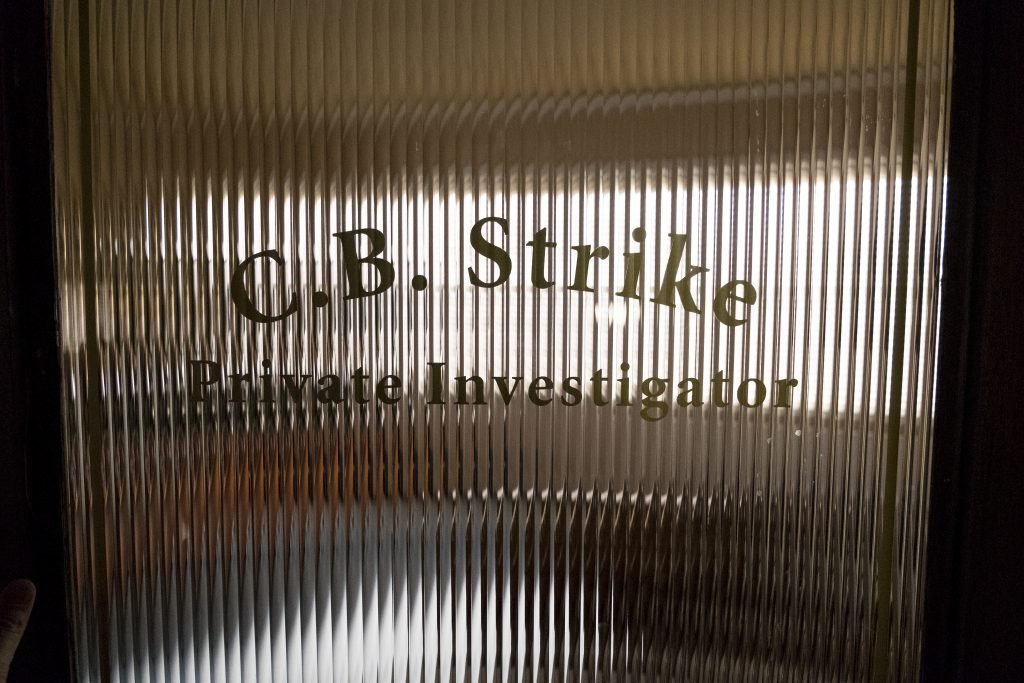 It's January, a time associated with new beginnings, so we're taking a look at how each of Cormoran Strike and Robin Ellacott's cases begin.
The Cuckoo's Calling
'Let's start at the beginning.'
The Cuckoo's Calling, Robert Galbraith
---
In some ways all the cases Robin and Strike investigate begin long before anyone visits them in Denmark Street. Lula Landry, supermodel, died three months before Robin and Cormoran even met, and their investigation will reach into her past, as well as reshaping Robin and Cormoran's future. Robin is only supposed to be temping at Cormoran Strike's Detective Agency for a week. She arrives, newly engaged to her boyfriend Matthew, to be knocked flying by her new boss. He's bleeding and disheveled and reminds her of a grizzly bear and it's not long before Robin realises the Agency is in trouble.
Then John Bristow arrives and looks like he could be the answer to the agency's financial problems. Strike is unwilling to take the case but Bristow insists, reminding Strike they met as children. It is his heartfelt demand for justice which convinces Strike to investigate though.
Before the morning is over, Strike has a new client, and has finally learned Robin's name, and discovered that she might be a cut above the usual temps. And Robin has realised that this new job might be something more interesting than her usual office work too. A new and unimagined future is unfolding.
The Silkworm
'Someone bloody famous,' said the hoarse voice on the end of the line, 'better've died, Strike.'
The Silkworm, Robert Galbraith
---
Their second major enquiry begins almost by accident. Robin is working full-time, but she's not making as much money as her fiancé would like, and the future still looks uncertain. Strike meanwhile has just finished a case which has left him exhausted, but a frustrating meeting with William Baker provokes Cormoran to accept a case with  the unannounced, appointment-free and slightly odd Leonora Quine.
Agreeing to help track down her husband, author Owen Quine, the existence of an incendiary manuscript soon develops the search into a murder investigation which leads Strike and Robin into a gothic snow-bound horror story and deep into the ego-driven and privileged world of literary publishing.
Career of Evil
'Well, where d'you wanna start?' said Wardle,
Career of Evil, Robert Galbraith
---
The third murder enquiry Robin and Strike become involved with does not start with a client arriving in Denmark Street. The Agency is getting more successful and the work is coming in fast. Robin's wedding has been delayed though, and Matthew is not pleased about her new career as an investigator. Robin, caught up in wedding arrangements and work, is not suspicious when she arrives at the office and sees a courier with a package for her – she is expecting a set of disposable cameras for the reception after all. But when she opens the package she discovers a severed human leg.
While the police investigate, Strike dives into his past, focusing on the violent men he has encountered in his career, especially Jeff Whittaker, his mother's second husband, who Strike suspects was behind her death. Whoever it was who sent the gruesome package, they have worked out that Robin is important to Strike, and that means they are both in danger. Robin's new career and Strike's increasing profile are coming with serious risks as well as rewards.
Lethal White
'That was the start of it,' Kinvara continued. 'The blackmail.'
Lethal White, Robert Galbraith
---
Robin's marriage almost ends on the day it began. She finds Matthew has been trying to sabotage a reconciliation with Strike and her career, but when he gets very ill on their honeymoon, she decides to give the marriage a try. Strike is glad to have her back in the office, even if he can't understand her decision to stay with her husband. For a year, they work together as the agency gets busier, and they have to deal with new contractors and the flood of work which has followed their previous successes.
Then, while Robin is out of the office a disturbed young man, Billy White, bursts in talking about a murder he has witnessed years ago. Strike is curious enough to follow up, despite Billy's brother Jimmy dismissing the story. Then a call comes in from Sir Jasper Chiswell, a government minister with old ties to the brothers, wanting to hire Strike and soon the partners are uncovering scandal in Westminster and a mysterious burial in the grounds of the Chiswell mansion. Robin discovers just how good her undercover skills are getting and flourishes in her work, but Strike's past, in the form of his ex-fiancée Charlotte, is looking to disturb his future.
Troubled Blood
'To begin at the beginning', said Strike.
 Troubled Blood, Robert Galbraith
---
Robin is working out what the future looks like and settling into a new home. Strike is also dealing with difficult family problems. His Aunt Joan, who provided some stability for him and his sister Lucy while they were growing up, is very ill and he's in Cornwall to see her and his Uncle Ted who inspired his military career. It's just chance then that Anna spots him sinking pints with his friend Dave in the Victory Inn at St Mawes and recognises him from the press coverage of their cases. Her mother, Margot Bamborough, disappeared in 1974 and Anna is haunted by the fact no one knows what happened to her. Was she the victim of a serial killer, or did she just leave?
Robin and Strike relish the idea of taking on a cold case, and agree to help her untangle the mystery, a case which leads them to other deaths, and a year-long investigation which takes them on strange, dark pathways into dangers old and new, as they try to work out their own futures and the future of the agency.
The Ink Black Heart
'Never seen in the new year in a toilet before. Hope it's not an omen.'
The Ink Black Heart, Robert Galbraith
---
A strange moment outside the Ritz on Robin's birthday puts the partners off balance, and Robin sees in the New Year skiing in Zermatt while Strike is working undercover in the night club Annabel's and meets and starts to date Madeline. As Strike and Robin try and understand their feelings for each other, a visit to the office by artist Edie Ledwell, creator of the hit animation The Ink Black Heart, plunges them into the world of online fandom. Edie is being harassed online by someone who knows intimate and private details about her life, and wants Strike and Robin to investigate, but the agency hasn't got the staff or expertise to help her.
When, less than a month later, Edie is murdered and her creative partner stabbed in Highgate Cemetery, Robin and Strike are hired to find out who was behind the harassment, and ensuing murder, and find themselves dealing with an anonymous army of fans and trolls, hidden identities and obsession. The case leads them through Highgate Cemetery to a strange artist's collective, as violence spills out from cyberspace into the real world.
A coincidence, a threat, a visit or an impulse – Robin Ellacott and Cormoran Strike's cases have different starting points, but each new beginning means new questions, new mysteries and demands the partners adapt and grow as their fame spreads, and the pressure and dangers increase.